Milda Daunoraite piano recital
20 October – 18:30
For her concert in the beautiful Harold Acton Library, she played Bach, Bartok and Schumann.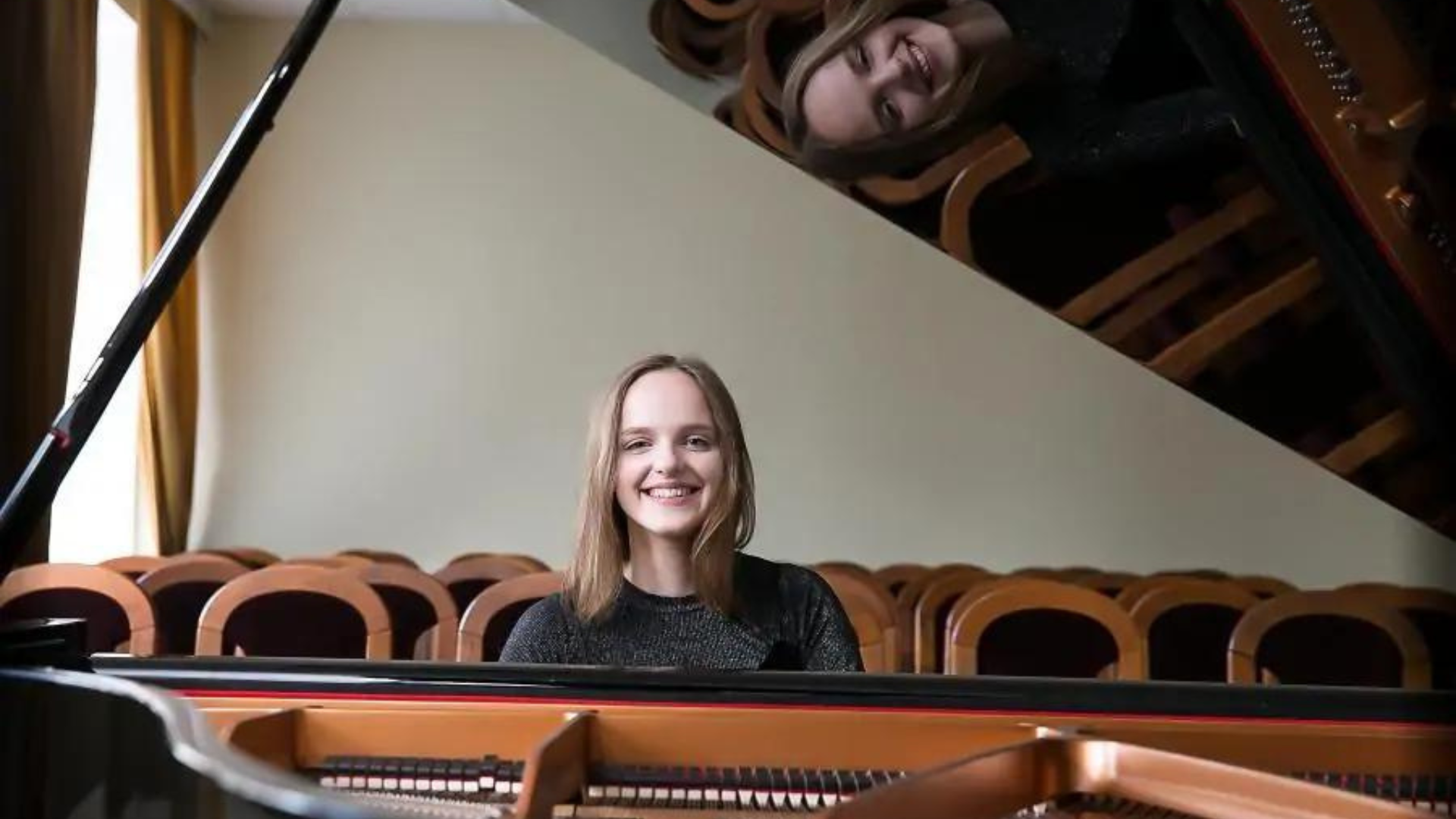 Born in Lithuania and now based in London, Milda Daunoraite has won prizes at numerous international competitions in recent years, as well as performing was a soloist with the Lithuanian Philharmonic Symphony Orchestra. She has also given recitals at London's Queen Elizabeth Hall and numerous other performances throughout Europe.
Programme:
Milda Daunoraite is a remarkable Lithuania born pianist and one of three that I have met in London where they have come to perfect their studies.Milda,Gabrielé Sutkuté and Rokas Valutuonis all have one thing in common a fluidity of sound and an ease in performance that is very similar to the remarkable Hungarian school of Geza Anda.
Why should that be,I have no idea except all three have a very open easy going spontaneity that may be to do with their early upbringing and studies in their native country.Milda at the age of 16 was brought by her then Lithuanian teacher to the Purcell School in England where he had taken up a teaching post.It was there that she met that remarkable trainer of young musicians Tessa Nicholson with whom she continued her studies and continues with her at the Royal Academy of Music where she was awarded a full scholarship.Milda still only in her 2nd year of a 4 year programme has already been singled out by the Keyboard Trust to give concerts on their various tours worldwide offered to exceptionally talented young artists at the beginning of their careers.
https://christopheraxworthymusiccommentary.com/2022/06/26/milda-daunoraite-live-stream-concert-for-the-keyboard-charitable-trust-youthful-charm-and-ease-at-the-service-of-music/
Schoenberg the master of the Second Viennese School, called J.S.Bach the first 12-tone composer. It was his treatment of chromatic themes that prompted that statement. One of the works that prompted that label was his Chromatic Fantasy and Fugue, BWV 903, which begins with not one but two ascents up different parts of the chromatic scale.
It was probably composed between 1717 and 1723 while Bach was in Köthen and it is its chromatic nature, which explores all keys, that causes scholars to link it with his experiments while in Köthen. Although Bach's original manuscript is lost, the extraordinary nature of the work has caused it to survive in 16 different copies, five of which date from Bach's lifetime. Not all of the versions are the same and it is assumed that Bach was the source of the various versions.The Fantasia is in three parts: the first is a prelude, filled with arpeggios; the second part is more recitative-like, and the third a combination of the two.The Fugue, on the other hand, is strict by its very nature but then relaxes, seemingly in response to the freedom of the Fantasy section.The work as a whole is remarkable – it has an harmonic boldness unexpected in the music at the time, but, on the other hand, may be very representative of what Bach normally achieved in free improvisation at the keyboard.The first biographer of Bach, Johann Nikolaus Forkel , wrote: "I have given much effort to find another piece of this type by Bach. But it was in vain. This fantasy is unique and has never been second to none."
Milda gave a performance of virtuosity and expression playing with clarity and fluidity but at the same time giving such shape and meaning to all she did.The ending of the fantasy was so poignant as it gradually lost its vital energy and with it's dying breath emerged the new life of the fugue.The energy and architectural shape she gave to the fugue was remarkable for its clarity and control as it gradually built up to it's final burst of glory.
---
The Piano Sonata No. 1 in F♯ minor, Op. 11, was composed by Schumann between 1833 to 1835 and he published it anonymously as "Pianoforte Sonata, dedicated to Clara by Florestan and Eusebius".It has been described as 'the most unconventional and the most intriguing' of Schumann's piano sonatas due to its unusual structure.The Aria is based on his earlier Lied setting, "An Anna" or "Nicht im Thale".Schumann later told his wife, Clara, that the sonata was "a solitary out cry for you from my heart … in which your theme appears in every possible shape".
It is in four movements the Scherzo having an intermezzo central episode of complete contrast before the return of the Scherzo allegrissimo.It is a very complicated work with its continual fleeting contrasts that need to be given an overall shape and form.Milda confided that this was the first time she had performed the work in public and it was the work that had brought her finally close to the world of Schumann with his dual personality of Floristan and Eusebius very much in conflict with each other.She brought great passion to the opening introduction with the theme that permeates the entire sonata.There was subtle virtuosity to the fleeting changes as she entered the Allegro vivace start of the first movement .The Aria was played with a ravishing sense of balance,fluidity and purity of sound that allowed this all too short lied to create a magic oasis before the rumbustuous rhythmic energy of the Scherzo and the rhetorical almost operatic Intermezzo that interrupts it's mischievous journey.The last movement was played with great nobility and a quite remarkable control as this long movement unfolds with continuous changes of character and colour.Even Schumann seems to loose his way but finally takes an almost unexpected leap from what seemed a dead end but infact becomes a coda of great excitement and transcendental difficulty which Milda played with passionate commitment.
The Piano Sonata, BB 88, Sz. 80, is a by Bela Bartok was composed in June 1926. 1926 is known to musicologists as Bartók's "piano year", when he underwent a creative shift in part from Beethovenian intensity to a more Bachian craftsmanship.
In three movements :
Allegro moderato
Sostenuto e pesante
Allegro molto
It is tonal but highly dissonant (and has no key signature ), using the piano in a percussive fashion with erratic time signatures Underneath clusters of repeated notes, the melody is folklike. Each movement has a classical structure overall, in character with Bartók's frequent use of classical forms as vehicles for his most advanced thinking.Dedicated to his second wife. A performance generally lasts around 15 minutes although Bartók wrote the duration as around 12 minutes and 30 seconds on the score.He wrote it with an Imperial Bosendorfer in mind, which has extra keys in the bass (97 keys in total instead of the usual 88)The second movement calls for these keys to be used (to play G sharp and F)
It was Leslie Howard who had pointed this out to Milda in her recital for the KCT a few months ago.I was hoping that Michele Padovano the piano technician /composer might have the two extra notes in his pocket!Michele has performed miracles with this fine old Bechstein piano but I think this was expecting too much even from such a genial musician!The piano under his hands and ours is fast turning into the noble instrument that it was born to be .It is admired by all the young musicians who are now being invited by Simon Gammell to fill this extraordinary library with the sounds of music.Milda after the sumptuous sounds of Schumann let forth with a savage attack on the piano with its insistent Hungarian folk rhythms.The sostenuto e pesante second movement was just that, but it had a line where Milda was able to guide us through this maze of strangely oblique sounds.The energy and attack of the Allegro molto took even Milda by surprise but the driving rhythms and insistent virtuosistic octaves never let up in a fearless journey to the final tumultuous ending.
What exhilaration and fun she was having but it was the subtle beauty of Chopin's mazurka in F minor op 63 n.2 that calmed the red hot atmosphere.A few notes of whispered beauty with subtle rubato reminded us of the poetry and singing qualities that can be found in this box of hammers and strings by a true artist. https://youtube.com/watch?v=W6poGmGiBQM&feature=share
https://christopheraxworthymusiccommentary.com/2022/09/14/the-gift-of-life-the-keyboard-trust-at-30/.
Supported by the Keyboard Trust –www.keyboardtrust.org
https://christopheraxworthymusiccommentary.com/2022/05/16/milda-daunoraite-at-st-marys-refreshing-simplicity-and-beauty-of-a-musician/
P.S. Lovely to know that Milda sightseeing in Florence the day after the concert got talking the following lunchtime to the staff of a bistro who turned out to be Lithuanian .She explained that she was a pianist who was in town for a concert and they persuaded her to tickle the keys of the piano that was is the shop.She had such an overwhelming success that they offered her a roast lunch,a red rose and an enormous glass of limoncello!On the house ….cheering indeed !