Sarah Giannetti making her debut for Roma Tre University with a passionate outpouring of Romantic masterpieces.I had heard Sarah four years ago when she gave a full blooded account of Rachmaninov's 3rd Concerto when only in her early twenties.I remember it was impressive for the passion and fearless courage with which she threw herself into the fray and came out a winner!
https://christopheraxworthymusiccommentary.wordpress.com/2018/01/29/citta-di-padua-international-prize-of-elia-modenese-and-elisabetta-gesuato-for-agimus-padova/
https://www.facebook.com/notes/christopher-axworthy/citta-di-padova-internazional-prize-of-elia-modenese-and-elisabetta-gesuato/10155411841707309/
I had met her again at the piano festival organised by Roberto Prosseda in that magic town of Barga,well known for its Opera Barga annual festival.Now thanks to Roberto this jewel in the crown of Tuscany is also known for Piano Barga.Sarah was one of six distinguished pianists invited by Roberto and his wife Alessandra Ammara who together with the internet phenomenon Valentina Lisitsa were conducted by Jan Latham Koenig in a repetitive work for six grand pianos by Steve Reich.
https://christopheraxworthymusiccommentary.wordpress.com/2019/08/04/piano-barga-the-jewel-in-the-crown-parts-onetwo-and-final-three/

The Appassionata sonata flowed from her hands today with the same energy and authority that I remember from four years ago.But now it is allied to a maturity and a technical assurance that she has gained from her studies since then with Leonid Magarius and Alberto Nosé in the International Piano Academy of Imola.
One of Beethoven's greatest and most technically challenging of his 32 sonatas the Appassionata was considered by Beethoven to be his most tempestuous piano sonata until the Hammerklavier op 106 .1803 was the year Beethoven came to grips with the irreversibility of his progressively deteriorating hearing.Written in 1804/6 op 57 was published in 1807 and was not given the name during the composer's lifetime (1770-1827),but in 1838 by the publisher of a duet arrangement of the work.Beethoven's autograph manuscript of the sonata though has "La Passionata" written on the cover, in Beethoven's hand.One was immediately impressed by the very robust playing of this quite frail looking young artist who gives such a strong rhythmic drive to all that she does.The opening trills were given immediately a rhythmic urgency as was the first tumultuous cascade of notes that she played very courageously with one hand as Beethoven had written them.There was drama too in the sudden chordal interruptions as she brought a broad sweep to the melodic line in the beautiful second subject that was just the calm before the storm.Sarah played these tumultuous interruptions with courage and technical prowess leading to the tempestuous declamation of the opening motif at the extremes of the keyboard .The flourishing cadenza before the coda was played with the anchor in the bass resounding so magnificently on this beautiful Fazioli piano.The treacherous scale passages she chose this time to split between the hands,as most pianist do.There is a school of thought via Arrau and Serkin that the risk – like in the opening of the Hammerklavier – adds to the animal excitement that the composer obviously intends and to play safe is not part of Beethoven's game!I am surprised that such a lioness as Sarah did not rise to the challenge this time!
The Andante con moto was played with a forward movement as this chordal procession wends its way to the dramatic interruption that heralds the arrival of the last movement.I would not have deliberately underlined the left hand on each repeat though,but let the music speak naturally for itself as it moves in an almost religious way much as the chorale does in Chopin's third scherzo.Any added inflections or rubato take away from the poignant beauty of the music.The Allegro ma non troppo was played with an architectural shape and relentless drive that was quite exhilarating.The coda too was played with overwhelming conviction but I would not have held up the tempo on the first two long chords of which the second is sforzando not ritardando and I would have had the courage to follow Beethoven's long final pedal marking to the very end.But Sarah's temperament and technical prowess just underlined that she is indeed 'La Passionata 'that Beethoven wrote on his score.

Chopin's elusive Scherzi were played with sumptuous colours and scintillating virtuosity.Six year old Arianna applauded her mother with great enthusiasm as did the audience in a hall I have rarely seen so full.
A magnificent new Fazioli concert grand allowed Sarah to share all Chopin's deepest thoughts with kaleidoscopic colours of velvet richness.
Unlike the classical model of the Scherzo the musical form adopted by Chopin is not characterised by humour or elements of surprise, but by highly charged "gestures of despair and demonic energy".Schumann wrote about the first scherzo: "How is 'gravity' to clothe itself if 'jest' goes about in dark veils?"Although various Beethovenian features of the scherzo are preserved—an A–B–A structure with sections A and B contrasting, triple time, pronounced articulation and sforzando accents—in terms of musical depth, Chopin's four scherzos enter into a different and grander realm. They are all marked presto or presto con fuoco and "expand immeasurably both the scale of the genre and its expressive range". In these piano pieces, particular the first three, any initial feeling of levity or jocularity is replaced by "an almost demonic power and energy".The first three are all in a minor key and the major key to the fourth brings a radiance and lyricism that was to be such a mark of Chopin in his later years.
The opening chords at the extremes of the keyboard of the Presto con fuoco B minor first scherzo were a call to arms with which Sarah threw herself with courage and technical prowess.The Old Polish Christmas Song 'Lulaze Jezunin' that Chopin quotes in the middle episode was played with a serenity and beauty and contrasted so well with the cry of the fortississimo chords that lead to the animal excitement of the coda.The second scherzo was played with contrast between the impish opening and the chordal replies.There was beauty and a delicate sense of balance in the lyrical episode marked 'con anima.'The explosions of passion and heroism as Sarah swept effortlessly across the keys led to a coda of great exhilaration bringing a spontaneous round of applause even from her own six year old daughter.There was drama in the opening of the third scherzo with its continuous outburst of octaves but it was the sumptuous beauty of the chorale that will remain in my memory with the gentle cascades of bells never allowing the architectural line to waver as it moved so mysteriously to the minor and a passage that is reminiscent of Debussy's submerged cathedral.The coda marked con fuoco allowed Sarah to throw caution to the wind as she brought this scherzo to a truly majestic ending.The fourth scherzo, the only one in a major key was full of lyricism and almost Mendelssohnian lightness.The beautiful middle episode was allowed to sing so simply and with such a subtle sense of balance. Chopin is in the realm of the 'Gods' here that together with the Fourth ballade and the Barcarolle these are three of the finest works ever written for the piano.Sarah played this final scherzo with all the aristocratic style and poetry that brought her Rome debut to a triumphant ending.
The Etude Tableau op 33 n.2 from her new CD of the complete set op 33 was her way of thanking her new Rome public that had turned out in unusually large numbers to applaud this young Tuscan artist.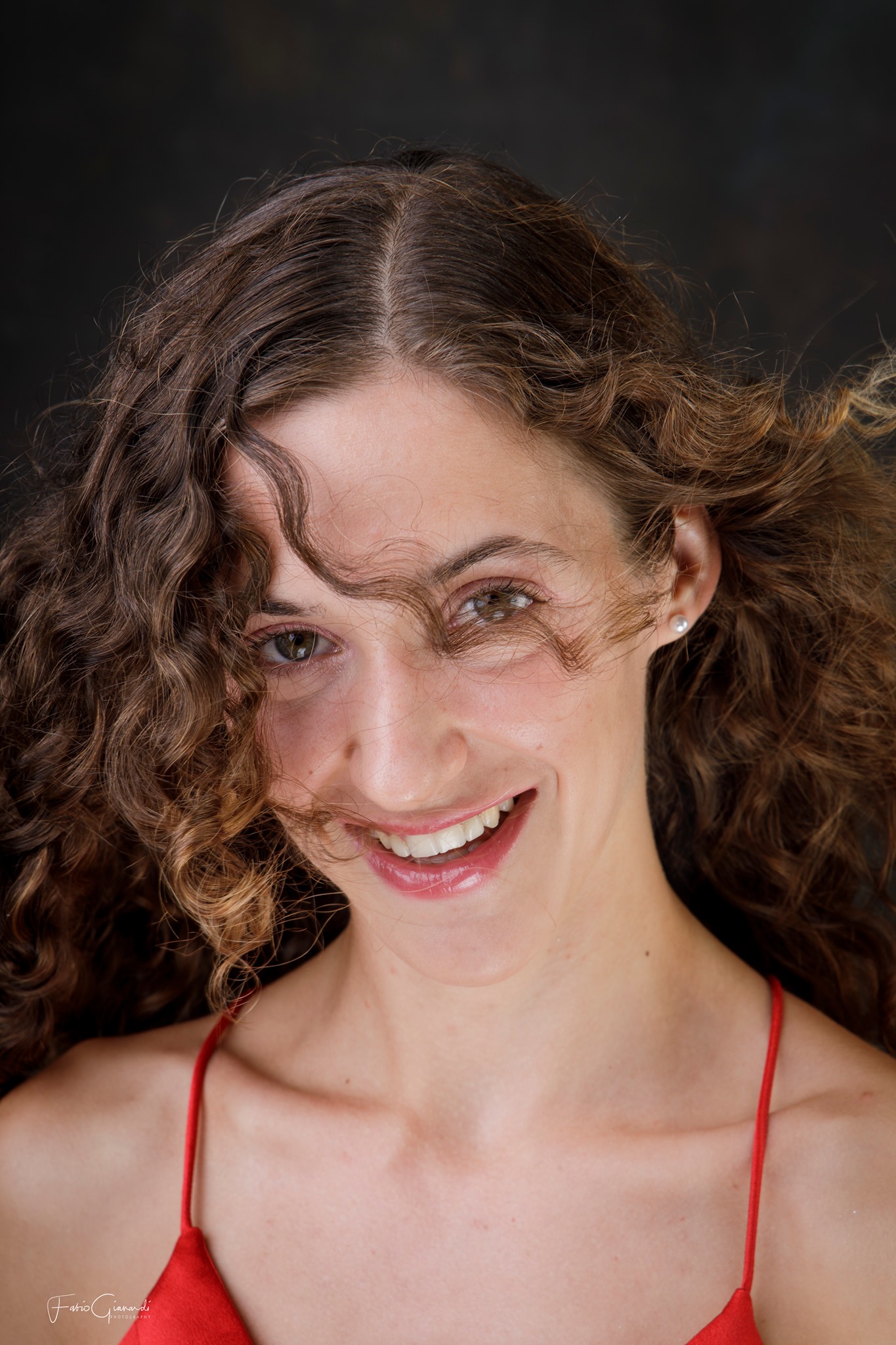 Poche opere segnano come l'Appassionata quel mutamento di tendenza che si è prodotto nel corso degli anni nei confronti dell'interpretazione di Beethoven. Considerata a lungo, e per motivi non solo squisitamente musicali, il capolavoro più rappresentativo del periodo eroico, la sonata op 57 passa da un climax al successivo con un senso di assoluta e irrefrenabile progressione, fino alla fine. Beethoven, dopo aver sperimentato in sonate precedenti una diversa successione dei movimenti, torna nell'op. 57 ai tre movimenti classici, ma ne sovverte dall'interno gli equilibri, perché il movimento lento centrale non è una pausa che interrompa la drammaticità dei due movimenti estremi quanto un'introduzione al finale, cui è direttamente collegato. Il finale acquista proporzioni imponenti e intensa drammaticità, paragonabili a quelle dell'Allegro assai, che a sua volta supera quanto si era mai scritto prima per il pianoforte.
Fu l'editore Cranz di Amburgo che pubblicò dopo la morte di Beethoven la Sonata sotto il nome di "Appassionata", cercando di evidenziare il carattere drammatico della musica, immersa in un gioco contrastante di due stati d'animo diversi. Non per nulla Romain Rolland, analizzando la struttura del primo tema dell'Allegro assai iniziale, giunse alla formulazione di una chiara indicazione di perfetta antitesi, così formulata; «Due facce opposte dell'io. L'io-forza selvaggia e l'io-debolezza tremante».
Chopin scrisse quattro Scherzi in tonalità diverse (in si minore op. 20; in si bemolle minore op. 31; in do diesis minore op. 39; in mi maggiore op. 54) che non si richiamano affatto agli analoghi tempi inseriti nelle Sonate e nelle Sinfonie beethoveniane, ma riflettono un tipo di composizione dalla fisionomia tutta particolare, dove la fantasia dispiega la propria libertà di espressione nei modi e nelle forme più opportune. Secondo l'opinione di qualche critico autorevole, come il polacco Jachimecki, gli Scherzi presenterebbero alcune analogie stilistiche e formali con le Ballate per quel carattere rapsodico e dai sentimenti contrastanti che caratterizza questa "forma" pianistica chopiniana.
Con noi la pianista toscana Sarah Giannetti, al suo debutto assoluto a Roma.